What child wouldn't love to get a personalized letter from Santa Claus this year? What a great way to say "I love you" or "I'm proud of you". Bring a smile to your child's face even before Christmas morning, and help get them into the spirit of the season.

Each letter is personalized to your child. Make the letter even more personal by mentioning some of your childs recent achievements. Children will be even more excited for Christmas, because of this letter and Santa letters have been known to encourage good behaviors in the weeks to come.

Who doesn't love to get mail? This year, watch your childrens eyes sparkle and their face smile, when they get their very own letter from the North Pole.

*NOTE*~All orders placed by December 1 will have an official postmark from North Pole, Alaska. All orders placed on December 2 through December 20 will have a North Pole "stamp" on them.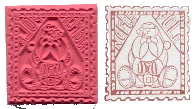 We are not responsible for items that get lost in the mail or arrive after December 25 due to late ordering. All prices listed are US dollar and are for US and Canada. For shipment to other countries or for questions or comments, please contact us.



ORDERS BEING ACCEPTED NOW!!!!!!!